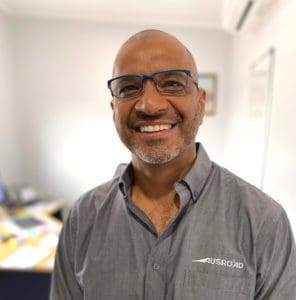 At Ausroad we strive to employ highly talented team members that enjoy their jobs and diversity in their roles, which is why we are lucky enough to have Clint Keble as our Chief Financial Officer (CFO).
As our CFO, Clint is responsible for managing Ausroads company's finances, including financial planning, management of financial risks, record keeping and reporting. He likes the work environment, how everyone is very hands on and they're not afraid to get their hands dirty.
"Most days are very good, and they run very smoothly. We get stuck into it and get the job done." He also stated that one thing he loves about Ausroad is that the owners are always present which makes the decision-making process a lot faster. He likes the fact that everyone works efficiently and professionally.
One Ausroad experience that stood out for our CFO was the time he drove to Moranbah to "complete the stock take at one of our plant divisions." It was very different to what his normal day to day looks like at the office. He's normally sitting behind his desk, crunching numbers, but that day he was responsible for correct stock take then going back to the Ausroad share house or as Clint likes to call it the 'Taj Mahal' to line up and get his food with all the other team members and then "crash, there was no socialising down the pub with beers."
Outside of work, Clint is a huge sports enthusiast. He loves to play all types of sports, cricket in particular. Cricket has been his sporting passion since he was a young boy, and he still loves to play the game every weekend. He plays for The Toombul District Cricket Club and their 4th grade Grand Final game a few weeks ago. To check out Clint's amazing cricket catch from the game check out our latest Facebook post!
"Our umpire never saw me move quicker!" All his teammates were ecstatic with his quick reflexes and celebrated together, definitely over beers.
https://ausroad.com.au/wp-content/uploads/new-logo-400x74.png
0
0
tina.evolvemarketing
https://ausroad.com.au/wp-content/uploads/new-logo-400x74.png
tina.evolvemarketing
2021-04-13 10:05:07
2021-04-13 11:11:38
Clint Keble, Our CFO