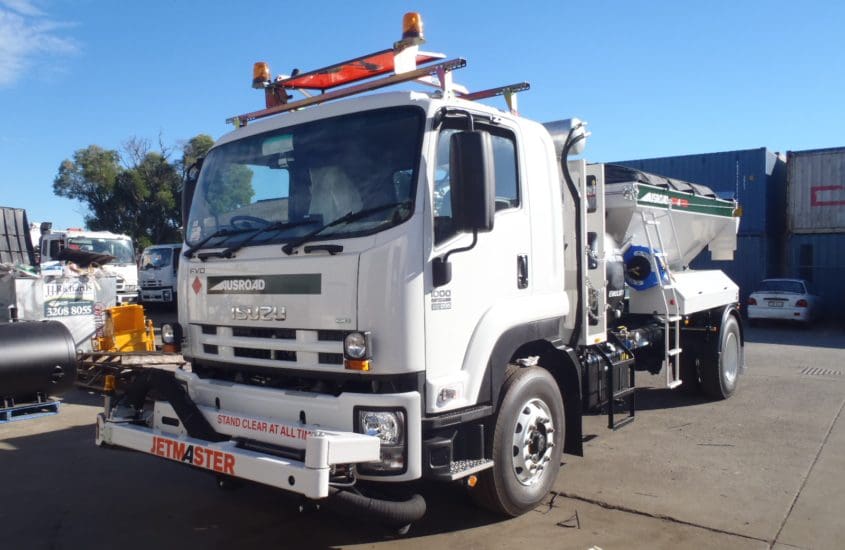 At Ausroad, we design and manufacture three of the best-selling road maintenance machines in Australia. It is no secret that our HD trucks, Jetmaster trucks and our emulsion spray units are known throughout the world for being tough, top of the line trucks, able to function in the worst of environments.
All of our trucks are available for hire and we have been providing road maintenance machines to government organisations and private contractors for more than 25 years.
Why are Ausroad's road maintenance machines the best hires in Australia?
There are many reasons why our road maintenance trucks are so popular. Mainly because you save a lot of money when you hire rather than buy, and you are not simply hiring a second rate, imported and badly designed truck. You are hiring the most up to date and the best designed modern trucks in Australia.
We sell our road maintenance machines all over the world, because people within the industry know that our trucks can take a beating and keep on going, regardless of the temperature, weather and environment. Let's take a look at some of the features of our best-selling road maintenance machines.
HD trucks: Our Horizontal Discharge Units (HD Series) are designed to deliver asphalt or quarry products. They are suitable for a variety of road maintenance tasks, such as pot hole filling, patch compaction and other heavy maintenance, depending on the optional extras you require.
Jetmaster trucks: Our Jetmaster road maintenance trucks are customised with a selection of equipment, suitable for a variety of tasks, from repairing broken edges, pot holes, edge breaks, depressions and speed bumps.
Emulsion spray units: These self-contained road maintenance machines come with a selection of different outlets including a spray wand, spray bar and crack filling device. They can be either skid or trailer mounted and are ideal for small road maintenance jobs.
As you can see, Ausroad road maintenance machines are a step above the rest, so if you are in the market to hire some seriously tough road maintenance trucks, then call us on 07 3216 7058 and let's get you started.
https://ausroad.com.au/wp-content/uploads/JM-Boom.jpg
1200
1600
Grant O'Neill
https://ausroad.com.au/wp-content/uploads/logo.png
Grant O'Neill
2016-06-28 13:47:02
2019-06-24 11:28:28
What Are the 3 Most Reliable Road Maintenance Machines You Can Hire in Australia?