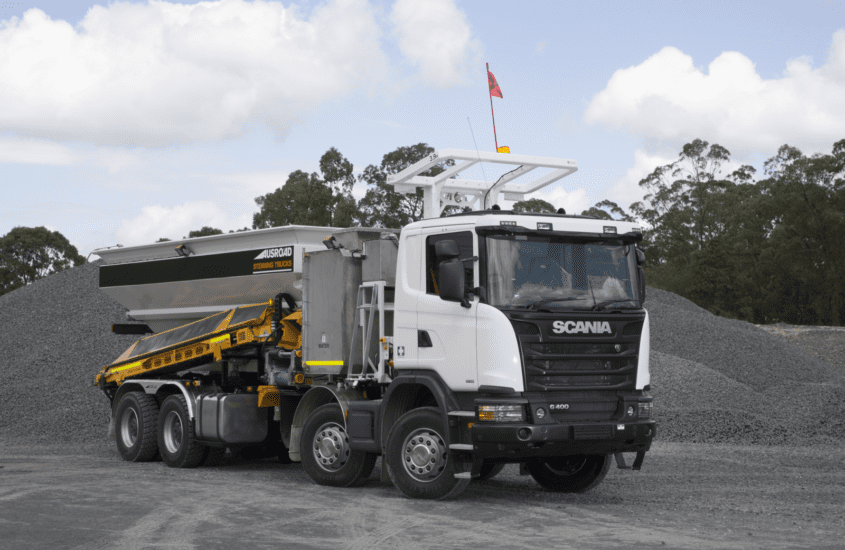 Ausroad Makes Tough, Purpose Built Road Maintenance and Mining Plant Equipment
Ausroad is one of the leading manufacturers of mining and road maintenance equipment in Australia. Their purpose-built stemming trucks have the largest payload capacity in Australia and they are well known for maximising the efficiency and safety of stemming operations on-site.
Not only that, but if you are looking for an emulsion sprayer for sale, then you can't go wrong with the Ausroad emulsion units, which are custom-built to your specifications.
Ausroad stemming trucks make short work of filling blast holes
When you are looking to buy or hire mining equipment, then Ausroad have everything you need. Their stemming trucks are designed specifically to maximise efficiency and safety on-site, in fact their designs have revolutionalised the stemming process. Just imagine delivering 26 tonnes of stemming in 15 minutes, with the entire process controlled from the cab.
Don't forget that with the hydraulic controls the placement of the stemming material is spot on every time. This means that wastage is reduced, precision increased and the whole process is streamlined. They even have a brand new radio-controlled stemming truck that is built for uneven terrain with a 1.5 tonne capacity – how good is that!
Ausroad emulsion units are just about bullet proof
On the other hand, if you are in the market for road maintenance equipment and are searching for an emulsion sprayer for sale, then forget searching online and go straight to Ausroad. Their emulsion units are custom designed, low maintenance and easy to operate.
With up to a 2000 litre capacity, a 3 cylinder cast iron air compressor, a spray bar and wand, as well as a crack filling device, the Ausroad emulsion units make short work of road maintenance. They can be either skid or trailer mounted and they even have a mini spray pack with a 2 metre hand wand, which can be connected to a 1000 litre plastic pod if needed.
Concluding thoughts
Ausroad also make water trucks, jetmaster trucks and HD trucks and you can hire or purchase any of their equipment – if you decide to hire, their fitters and maintenance people are on call to help out anytime. So whether you want mining equipment or you are looking for an emulsion sprayer for sale, check out Ausroad, the leading manufacturer of tough stuff in Australia.
https://ausroad.com.au/wp-content/uploads/Scania-14-0527-1.png
1066
1600
https://ausroad.com.au/wp-content/uploads/new-logo-400x74.png
2015-09-21 20:50:52
2019-06-24 12:18:22
Ausroad Makes Tough, Purpose Built Road Maintenance and Mining Plant Equipment